LCD124
What's it?
Did you ever dream of a flat display for your computer? I did and in 1997 I got a LCD panel with exactly the specifications to replace the SM124 monitor of my Atari ST. Just for the fun I developed this Xilinx design - mainly it consists of one XC3042, one 32 KByte RAM and two 32 KByte (EEP-)ROMs. After adding a small audio amplifier and a speaker it can replace the SM124 plug-and-play!
Special offer
The working prototype of this display as shown is for sale! Please drop me an email if you are interested. I'll be more than happy if you take on the postage.
Download:
lcd124s.zip Archive with VHDL sources and binary, 20KB.
lcd124.zip Archive with OrCAD schematic, 6KB.
Pictures:
| | |
| --- | --- |
| | Here it is built into the front part of an original monitor case. As you can see, the LCD module fits well into the frame... Click the picture to load the big one, 48KB. |
Click this link to look at a close view of the printed circuit board, 40KB. The little piggyback board at the left is a inverter for the negative LCD supply. The other piggyback between FPGA and LCD module contains an enhanced clock generator.
The following is the default picture if no video signal is received. It is stored in one of the ROMs which could be left out for a simpler design. You may also put another picture (32000 byte Doodle format) in the ROM if you like...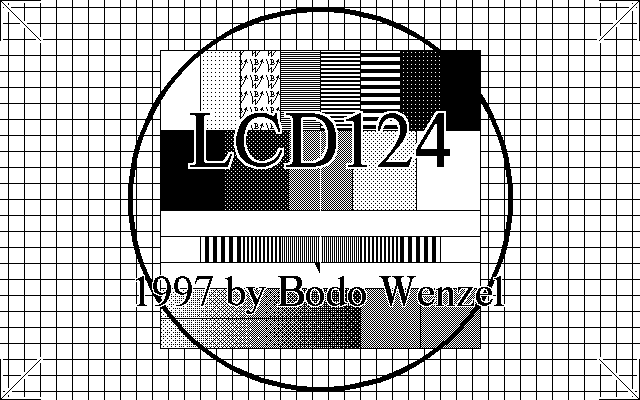 Notes:
The main problem is the clock recovery circuit. Luckily the Atari ST generates fixed rates of horizontal and vertical clocks so I could use a phase locked loop (PLL) to regenerate the pixel clock. There are two jumper fields to adjust for possibly different models of Ataris.
To generate the voltage for the backlight I simply took a transformator and use it the "other" way. So I didn't need another inverter for 110 volts AC.
Who to blame:
Back to my home page.
Comments and such stuff go to: bodowenzel@web.de