yuccadvent
History:
In september 2002 the german handheld magazine "beam" announced a competition for an Advent Calendar. I signed up, but some weeks later the editor Christoph Kaufmann reported that only few people were interested. The competition was canceled, but he invited us for a chat and then we decided to write it anyway.
The project was called "yuccadvent" and created at SourceForge under the GNU General Public License.
Download:
Please visit the project summary page for the latest versions. Of course there's no dedicated homepage, since this is seasonal software...
Screen snapshot: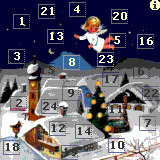 What's it about:
In Christian religion we celebrate Christ's birth on december, 25th (known as Xmas or Christmas). To prepare for this time of contemplation we use a special Advent Calendar. Each day in december you open a door; so you do in this cute application. There's a surprise behind each door: a story, a poem, a recipe, a little game, or something else.
Who to blame:
Back to my home page.
Comments about Palm stuff: palm.devel@gmx.de
Other comments and such stuff go to: bodowenzel@web.de